Hadley receives Daimler Masters of Quality Award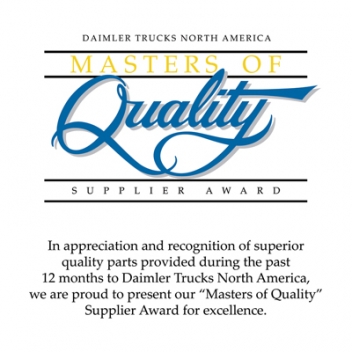 Hadley has earned the Masters of Quality award for 2013 accomplishments from Daimler. Hadley was one of only 59 manufacturers selected from over 1,000 currently supplying Daimler to receive the award for quality excellence. Masters of Quality award is the highest recognition Daimler Trucks North America gives to its suppliers. Daimler presented the Masters of Quality award during an on-site ceremony at Hadley's Global headquarters, located at 2851 Prairie Street, Grandville, Michigan.
"It is a privilege to be recognized by the world's largest truck manufacturer with this prestigious award" said Bob Dubsky, President. "We are extremely proud to earn this honor."
The annual program, now in its 26th year, recognizes suppliers that meet or exceed Daimler Truck North America's stringent quality standards by receiving high scores on their Quality, Delivery, Technology, and Cost performance as measured on a Balanced Scorecard. These suppliers demonstrate an on-going commitment to improving the reliability of their products and overall performance of their businesses.
Hadley supplies Air Horns, Mechanical and Electronic Height Control Valves and Mirror systems to the Daimler Truck North America, Freightliner brand.
"The entire Hadley team works hard daily to meet Daimler's rigorous requirements" said Dubsky. "Receiving the Masters of Quality award two consecutive years confirms to us that we are all continuing to excel at our goal to produce high quality products for Daimler and their end-customers."
About Hadley: Based in Grandville, Michigan, Hadley is a well-known and respected supplier of quality components and solutions for the Class 5-8 Truck and Tractor, Trailer, Transit & Shuttle Bus, RV, Motorcoach, Specialty Vehicle markets and associated aftermarket distribution.  Their products include Hadley's world famous air horns, mechanical and electronic (SAMS & SmartValve) height control valves for chassis / cab air suspension systems, truck mirrors, transit mirrors, mini 12/24 volt DC air compressors for a variety of applications, and fully integrated interior lighting systems/luggage  racks for transit, shuttle and motorcoach vehicles.
Hadley continues to expand its customer product and service offerings and is a pioneering force in the creation of value-added "Smart" products and systems.   Hadley's aggressive innovation process reflects its focus on: "Your Vehicle. Your Company. Your Success."
[nggallery id=25]